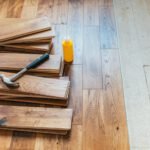 The Best Flooring Options For Your Home
If you're looking to upgrade the flooring in your Cypress home, you've come to the right place. Here, you'll learn about Tile Flooring, Laminate Flooring, and Hardwood Floors. Which is best for your home? You'll also discover the pros and cons of each type.
What is the best type of flooring for your home?
The type of flooring you choose will depend on the room of your house. Some people like hardwood floors because of their durability and low maintenance. However, they do require frequent vacuuming and sweeping. In addition, they may stain from spills. To prevent this from happening, you should always seek professional help.
If you want a more authentic look, consider luxury vinyl flooring. This flooring will not suffer from deep stains, chips, or warping. It is designed with a wear layer and a dense interior. These floors will also resist scratches and water damage. The best part is that they are waterproof and even pet and kid-proof.
New flooring is an investment in your home, and you should start with the most outdated rooms. Kitchens and bathrooms are the rooms where your renovation efforts will reap the most return. After all, an old, dingy kitchen is no longer as appealing as one that is contemporary. Hardwood may be more expensive than carpet, but it will also last for decades, while carpet needs replacing every ten or fifteen years. However, hardwood floors can last a lifetime, provided they are appropriately maintained.
Tile Flooring
Tile Flooring can be an attractive, durable option for flooring in your home, and it is also an excellent option for indoor and outdoor spaces. And if you're considering a tile installation for your home, you should check out the company's tile installation service in Cypress. Not only will you get excellent flooring at an affordable price, but you can also get a free quote.
Tile comes in various styles, colors, and textures and can be made from multiple materials. The most popular type of tile is ceramic, made from clay and other materials and fired in kilns up to 2,100 degrees to ensure durability. Porcelain tile, on the other hand, includes crystals and has a glass-like shine, and it is also much more durable than ceramic clay tiles.
Tile flooring is also easy to maintain. In addition to being durable and resistant to stains, tiles are also resistant to water damage and high humidity. You can roll desk chairs on top of the tile and not worry about them staining the floor.
Laminate Flooring
Laminate flooring is an excellent option for homeowners who want a high-quality flooring solution without the high cost. It uses layers of resin and fiberboard that are sealed with a final resin layer for easy cleaning and protection. The flooring can last anywhere from 15 to 20 years before requiring replacement, and the best part is that it can be installed over an existing floor if necessary.
Another great feature of laminate flooring is that it is easy to maintain. With regular sweeping and vacuuming, laminate floors can look clean for years. When spills occur, you must wipe them up with a damp mop and cleaning solution. This type of flooring also typically comes with an extended warranty. A warranty of up to a year is generally sufficient, but getting one with lifetime coverage is possible.
In addition to offering durability and waterproof properties, laminate flooring is also stain-, impact and scratch-resistant. A professional flooring company in Cypress, Texas, can help you find the right type of flooring for your needs.
Hardwood Floors
Hardwood floors are beautiful and add a sense of character to any room. Many retail stores in Cypress offer free estimates and can install hardwood flooring in your home. This flooring adds beauty, strength, and durability to your home. Hardwood floors also improve resale value.
Hardwood floors are available in a wide variety of species and textures. Whether you want a traditional look or a coastal vibe, there's a hardwood floor to fit your decor. Depending on your tastes, you can select solid hardwood flooring, hand-scraped wood, or an engineered hardwood floor.
Squeaky floors are a common problem in any house. However, you can take some simple steps to eliminate the problem. First, if you can identify the source of the squeaky floors, you can take the proper steps to fix them. Second, you can refinish the hardwood floors to bring them back to their original beauty. You can hire a professional if you don't have the time or expertise to do this job.
Carpet
Carpet is an excellent choice for homeowners who want a warm and inviting home. It is also durable, and it comes in different styles and textures. The carpeting in your home adds warmth and comfort and comes in many styles and textures. It's been used in homes for centuries, and it first became popular in the sixteenth century when traders came from the East and brought back textiles. Modern carpet is stain and dirt-resistant and can be cleaned with a regular vacuum. Today's carpet is stain-resistant and requires little maintenance. Just vacuum it regularly to maintain its beautiful look.
Which flooring is most cost-effective?
If you want to upgrade the look of your house at a reasonable cost, you might want to install laminate flooring. It can look like hardwood floors but is much cheaper and easier to maintain. It is durable and easy to clean, but it cannot be waterproof and will eventually need to be replaced.
The type of flooring you choose depends on several factors, including comfort, style, and durability. Determine your most critical elements and select the material that meets these requirements. If you have pets, you might consider non-slip flooring, and it won't scratch or wear away underfoot, making it perfect for families with children. If you have limited mobility, low-pile carpet or rubber flooring may be a good choice. You can also consider recycled flooring or cork, which provides additional insulation.
Floors For Living – The Best Overall Choice for Flooring in Cypress
Floors For Living is a locally owned business in Cypress, Texas. They offer a variety of flooring solutions and installation services. They also help new homeowners choose suitable materials for their homes. Their professional staff is experienced in installing many types of flooring and can offer design consultation and estimates. They also provide a variety of eco-friendly options for your flooring. These options include bamboo, glass, and linoleum.
If you want to improve the look of your home's interior, consider replacing your floors with engineered hardwood floors. These floors provide warmth and a natural feel. Several types of engineered hardwood flooring are available at Texas Floors, from distressed wood to smooth finishes. Each type is built to withstand wear and tear and keep dirt and allergens at bay. These floors can also be easily cleaned. Additionally, they can increase your home's resale value.
Another option for new flooring is laminate. This material is beautiful and is less expensive than hardwood, and it is also easy to clean and comes in antimicrobial varieties. This type of flooring will last anywhere from fifteen to twenty years before it needs to be replaced. In addition, laminate flooring is easy to maintain and requires less maintenance than hardwood.
Best Flooring for Easy Cleaning in Your Cypress TX Home
Consider engineered hardwood floors if you want to install easy-to-clean flooring in your home. These floors radiate warmth and beauty, and you can choose from various styles, including distressed and smooth textures. These floors are easy to clean with a broom, and they will add resale value to your home.
Urethane flooring requires regular sweeping and mopping using a cleaner recommended by the manufacturer. You should avoid using anything that will damage the urethane finish, as it can cause it to be dull over time. Urethane flooring is relatively easy to install, but you will need to ensure that the subfloor is dry and level before installing it.
Vinyl flooring is another easy-to-clean option. The luxury variety is water-resistant, which means water cannot damage the surface. It comes in sheet, tile, and plank forms. It is affordable and easy to install, and it also resists water, fading, wear, and stains. And because of its water-resistant properties, vinyl flooring is also easy to maintain. It also comes in various colors, designs, and patterns, making it a versatile choice.
When selecting the right flooring for your home, you must decide what factors are most important. Comfort, durability, and style are all essential factors. Make sure you take the time to learn about the different types of flooring before choosing the material for your house. Hardwood and tile remain the top choices, but some lesser-known types have similar benefits. Hardwood is the best choice for most rooms if you are looking for a long-term ROI. You can even find eco-friendly bamboo and cork flooring, which provide extra insulation.