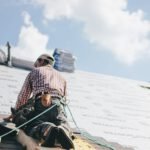 How Much Does a New Roof Cost in Cypress, Texas?
Whether you're planning to have a new roof installed or want to fix a damaged one, several factors will determine the cost of your new roof. Learn what affects the price of a new roof in Cypress and how to avoid paying more than you have to for a new roof.
How Much Does a New Roof Cost in Cypress Texas
When you are getting a new roof, consider the cost of materials. The materials themselves can account for about 40 percent of the total cost, and this is because making the same structure with heavier materials costs more. It would help if you asked your contractor which material is best for your home. Asphalt shingles are a popular choice, but they can also be expensive. In Cypress, you may be able to save some money by using other materials like metal roofing.
Before hiring a contractor:
Look for their reputation in the community.
Try to find a contractor with at least five years of experience.
For a more professional company, look for one with at least fifteen years of experience. You should also read the contract carefully.
A professional roofing contractor will not mind you asking them to explain every term in the contract.
The price of a new roof in Texas can vary greatly. Depending on the type of roof and the materials, you can expect to spend anywhere from $2,000 to $35,000 on a new roof. Asphalt shingles are one of the most common types of roofing, and they typically cost anywhere from $5,700 to $12,000 for a single-family home. On the other hand, tile roofs are more expensive, ranging from $13,000 to $35,000, depending on the materials used.
While asphalt shingles are Cypress, Texas's most typical roof material, you can choose other materials, like wood or metal. These materials can be significantly more expensive, but they'll look better and protect your house.
Factors Affecting the Price of a New Roof Replace
The cost of a new roof in Cypress can vary based on the size of your house and the type of roofing material used. Typically, a gable roof will cost less than a hipped roof. Other common roof shapes in Texas include flat roofs and mansards. The condition of your roof will affect its price, as hipped roofs require more materials than gable roofs.
The material you choose will have a significant impact on the cost of your project. Most shingles used in Texas are asphalt, but some types are made from concrete or clay. Metal roofs are becoming increasingly popular. You may also want to consider the age and condition of your home. If you live in an area where you frequently get hail storms, opting for a hail-resistant roof, such as stone-coated metal tiles, is best.
The average cost of a new roof replacement in Houston is about $6,000, but it can be much higher. Some companies charge up to $22,000 for a significant roofing replacement, so consider this when comparing prices.
In Texas, the summers can be brutal, and excessive heat accelerates the wear and tear of roofing materials. Shingles are particularly susceptible to accelerated deterioration if exposed to too much heat. Similarly, improper attic ventilation and inadequate insulation can cause heat to build up and cook roofing materials. Choosing a roofing contractor with experience and knowledge is vital to avoid such issues.
In Texas, homeowners can seek insurance coverage for the cost of roofing. Sometimes, homeowners can save money on a new roof replacement by purchasing materials themselves. However, homeowners should confirm that their roofing contractor is licensed and insured. They can also check the contractor's credentials by contacting the Roofing Contractors Association of Texas. Although it may seem tempting to purchase materials on your own, it is advisable to have your roof measured by a professional.
Homeowners Insurance the Necessity of a New Roof
Your home's roof is essential to your property's protection, and the homeowner's insurance you purchase should cover the expense. The roof replacement cost is based on several factors, including the size of the house and the type of roofing required. The average Texan pays a deductible of $1,000 and receives about $11,000 from their home insurer.
The best way to ensure your roof is covered is to file a claim with your insurance company. Typically, you have two years to file a claim. However, homeowners' insurance will not cover cosmetic damage to the roof, so be sure to read your policy carefully. You'll also want to research the contractors you hire. Make sure they are insured and have the proper licensing. If unsure of your insurance coverage, contact your insurance company and file your claim. Many companies have mobile apps or online tools to help you complete the paperwork.
Another factor in home insurance is the location of the home. If your house is located in a high-risk neighborhood, you won't qualify for a significant discount on your coverage. If your roof is damaged beyond repair, the insurer may pay for a portion of the cost or a partial replacement. However, you can save money on your home insurance premium by taking good care of the roof.
Your roof's age is another vital factor to consider. Roofing materials depreciate over time, and many insurers won't cover a roof over 25 years old. In addition, if you have a roof made of more than two layers, your insurance company may not cover the project's total cost.
How to Find the Best Roofing Contractor that won't cost you more than it should
Before hiring a roofing contractor, you should check his credentials and insurance coverage. This way, you can ensure that you're not putting yourself and your family in danger. The insurance coverage should include liability insurance and worker's compensation. In addition, check that the roofer has a current license. Some states have specific rules on this issue.
Another important aspect of hiring a roofing contractor is the quality of the work. The roofer should have adequate knowledge of roofing materials, tools, and installation techniques. Make sure the materials and tools used are of high quality. Poor-quality tools and materials can cause severe problems with your roof and could cost you money. It's also important to ask the contractor to provide you with a comprehensive written proposal so you can compare their costs and estimates. You should also check the material used on your roof because this can influence the look of your home and the resale value.
It's also a good idea to check the references and reviews of prospective roofing contractors. While contractors may be reluctant to share their clients' feedback, they can often be found online, giving you a clear picture of the contractor's quality and reputation. Additionally, you can ask past clients to provide you with feedback about their experiences with the contractor and their satisfaction levels.
Roofing contractors often offer different warranties. It would be best if you chose a contractor who offers a lifetime warranty for his work. This shows the contractor's dedication and pride in his work. This will also give you a better idea of how easy it is to work with them. They should also have a good reputation in the local community.
When choosing a roofing contractor, you should look for one with a positive attitude and a high skill level. It's best to choose someone who is passionate about their work and has an attitude to match that attitude. A positive attitude will go a long way in restoring your home's roof.
When you're hiring a roofing contractor, make sure to ask the right questions during the interview. You can also check online reviews and ask for several quotes before deciding. Hiring the best contractor will ultimately help you get the best value for your money. A well-respected roofing company will deliver a quality job and guarantee your satisfaction. They will also protect your home from the harsh elements outside.
Choosing a quality roofing contractor is crucial to the overall success of your home. While the cheapest quote may be tempting, remember that a roofer needs to recover their costs through the roofing job, which means they need to cover insurance, materials, and labor hours. You cannot afford to settle for anything less than top quality.
Before hiring a roofing contractor, check his license and insurance. Some states require a roofing contractor to be licensed. Checking a contractor's license is one of the best ways to ensure they are professional. In addition, it shows you that the company is serious about its job. Having a license means the contractor undergoes ongoing education and keeps up with current materials.