Remodeling your kitchen is exciting and thrilling, but it is essential to ensure you do it right. You want the remodel to be worth the effort and money spent on it, which means ensuring that you do all the homework properly. If you're remodeling your kitchen and are confused about anything we'll talk about in this blog, have no fear. We've got you covered. And if you still feel stuck, reach out to us for expert advice. Here are some of the things that people commonly make mistakes with while remodeling their kitchens:
Not considering the future
---
When considering kitchen remodeling, one of the common mistakes that a person makes is not thinking about the future. What will the kitchen be used for in five, ten, or fifteen years? Will it still look good and be functional, then? If you're remodeling your kitchen for personal use, this shouldn't be that big of a deal. If you're remodeling your kitchen to sell, it is essential to consider how the new design will affect the resale value of your home.
Most people who neglect the future usually plan for a maximum of a year. If remodeling your kitchen means replacing appliances, flooring, and countertops in one go, make sure you have a plan for what will happen after the renovation is complete.
Not factoring in a budget
---
Kitchen remodeling can be a costly endeavor. As a rule of thumb, expect to spend between 10% and 15% of the kitchen remodel budget on unforeseen expenses like plumbing and electrical upgrades. Furthermore, kitchen remodels projects often require several planning rounds to ensure each detail is considered. This can add weeks or even months to the project timeline, making it hard to factor in unexpected expenses like weather delays.
Considering these factors before starting a kitchen remodel project, you can budget for the kitchen remodel without worrying about overspending or missing out on essential enhancements to your kitchen. One way to save money during a kitchen remodel is to plan and shop for appliances and fixtures online instead of at brick-and-mortar stores. Also, consider using kitchen appliances and fixtures already installed in your home rather than new models.
Not researching products
---
When remodeling a kitchen, you must consider the safety and health of yourself and your workers. This means selecting the right products and following the specific installation instructions provided by the product's manufacturer. Additionally, it would be best to have enough workers on the project to ensure that everyone is safe and gets the help they need.
Lastly, make sure to clean up any debris that's left after the renovation is complete. Doing so will prevent unnecessary hazards from arising and keep your kitchen remodel running smoothly.
Not being aware of health and safety hazards can lead to injuries or death during kitchen remodeling projects. As a result, you must research kitchen remodel projects before embarking on them to avoid common mistakes. Following these simple tips can ensure a safe and successful kitchen remodel project.
Not hiring a professional
---
DIYers tackling a major kitchen remodel can save up to 50% of project costs by doing all the work themselves. But it's essential to hire a professional kitchen remodeler as they are experienced in kitchen design and installation. A kitchen remodel is a huge investment and requires specialized skills, tools, and materials. A kitchen remodeler can help you plan the renovation, assess your kitchen's condition, and make recommendations for the best solution for your kitchen remodel.
This will ensure that your kitchen remodel is done correctly and that you get the most out of it. Hiring a professional for a major remodel can also save you time and money in the long run. Always verify that they are licensed and insured when hiring a professional kitchen remodeler. Make sure that the contractor you choose has experience with kitchens of all sizes and offers a warranty on their workmanship. Ask about any references they may have and what kind of insurance coverage they carry.
Not considering storage needs
---
When remodeling kitchen space, it's critical to consider the storage needs of the kitchen. Those who plan their kitchen remodel before heading to the start are more likely to hit the mark about storage. Determine the size and shape of the kitchen space and then include relevant storage features. Incorporating a pantry into small kitchens can make it more functional and organized.
Consider custom cabinetry to add extra storage space in a kitchen remodel. It is essential to incorporate drawers, shelves, cabinets, and other features to help accommodate your kitchen's storage needs. Keep the size of cabinets proportional to the size of countertops when framing out the layout of a kitchen floor plan. This helps ensure that your kitchen not only looks organized but also is functional and efficient.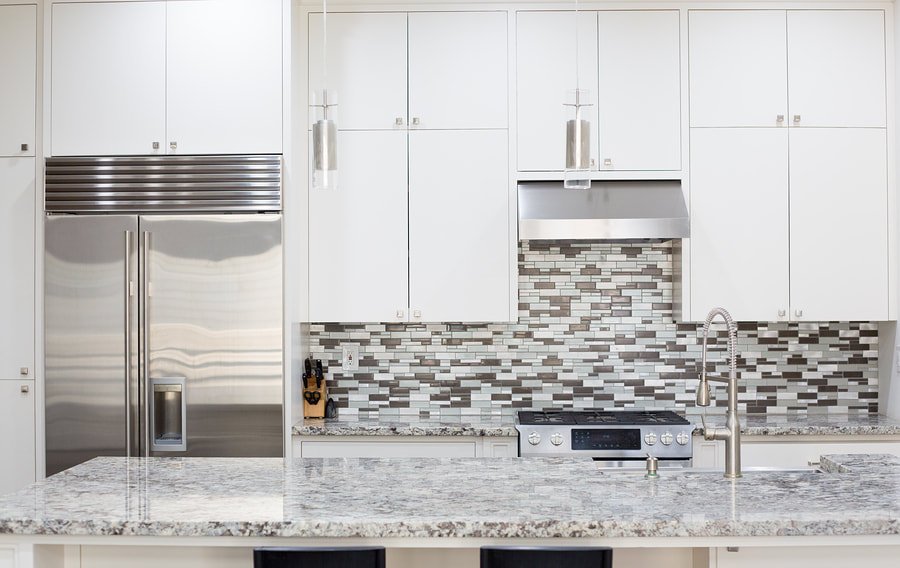 Not planning around the layout
---
Major kitchen renovations can easily exceed six figures if you are not careful about the layout and design of the space. Before you start a kitchen remodel, it's essential to consider how you want to use the space – if you wish to add an island or opt for custom cabinetry. Keep in mind that kitchen remodels can be expensive and time-intensive, so be sure to factor in the cost of take-out meals or restaurants when you cannot cook at home.
A kitchen renovation could add value to your home and appeal to potential buyers, but be sure to factor in return on investment before diving into a renovation project. Budgeting for a kitchen renovation should be done carefully, with a plan in mind, so you only end up spending what you planned.
Not considering the existing plumbing
---
Remodeling a kitchen can be a costly and time-consuming process. When planning the remodeling, it is vital to consider the existing plumbing. This will ensure that the kitchen can function properly and meet the requirements of the homeowners. Most of the time, plumbing changes are not factored into renovation costs and can end up costing homeowners a fortune.
It is also essential to consider the kitchen layout before starting construction. If you have opted for an island design or custom cabinets, consider countertops that may need to be relocated. An accurate layout will help minimize disruptions during renovation and ensure that your kitchen remodels are completed on time and without surprises.
Not considering the lighting
---
A kitchen makeover involves assembling light fixtures, backsplash material, flooring material, and countertops. Therefore, it's vital to consider the lighting during the makeover. Noting the lighting will help you determine which fixtures best match your kitchen design and layout. Besides that, it can also help you save time and money by avoiding any mistakes with your lighting installation. In addition, updating kitchen lighting can make the space look more inviting and modern.
When remodeling a kitchen, it is essential to consider appliances used in the area. For example, if you plan to install new countertops, it's essential to consider whether or not your appliances will fit. Likewise, if you're thinking of replacing cabinets with fresh new designs, consider what appliances will go best with them. Doing this can help save you time and money during a renovation project by avoiding any mistakes when choosing appliances or cabinet styles.
Not considering the ventilation
---
A kitchen remodeling without considering proper ventilation can cause several problems. When there is inadequate ventilation, humidity and other pollutants can accumulate in the kitchen, creating an unpleasant smell and causing damage to appliances and fixtures. This can lead to mold, mildew, and other health hazards.
Furthermore, improper ventilation can lead to the buildup of hazardous gases, such as carbon dioxide, which is a health hazard. When kitchen remodeling with adequate ventilation, you can ensure that your kitchen is safe and enjoyable for everyone involved. By following these tips, you can avoid any kitchen renovation problems.
Conclusion
---
A remodeling project can be exciting but keep it manageable. You will likely have many questions and concerns during your kitchen remodeling. Remember that remodeling your kitchen is an investment and requires planning. At Cypress Home Remodeling Company, we can help you with your kitchen remodeling projects in Cypress, TX. Our team has extensive experience in kitchen remodeling and will provide you with the insights and tips you need to make the best decisions for your home. To schedule the process, call us at 832-304-8152 to learn more!